Find Attractive Discounts and Enjoy the Shopping Experience of the products you want with us. Quality online at the latest low price this year in this shop Easy payment, fast delivery to all over the world. Shopping is easy and economical just for you! Enjoy the sensation of shopping with the widest range! can be sent throughout the world. Various kinds of products are here. Hurry up and shop now and get attractive promos and low prices with premium quality items, only available in our store. Shopping sensation that you will not find in other stores. Shop now, choose products and buy secure transactions throughout the country. the widest range of online stores in the world.
Original price US $123.00, Discount 19%. Sale price US $99.63
Buy doneearly product sale signal repeater, Buy Quality signal booster directly from China 4g signal repeater Suppliers: VOTK GSM DCS 3G tri band signal booster! mobile 2G 3G 4G signal repeater 900 1800 2100 MHZ signal amplifier Enjoy Free Shipping Worldwide! Limited Time SaleEasy Return.
Selling point of product :
1.New design in 2017, to make the repeater work better, the size of this repeater is designed very big and heavy.
2.Coverage: cover about 500-1000sqm without barrier,but one antenna mostly can cover 200 square meters. This repeater can work with 4-6 indoor antennas.
3.GSM 2G 3G 4G LTE signal booster ,expand 2G GSM UMTS 2100mhz LTE 1800 signal ,Work for 2G 3G 4G
4.65dB high gain, 20dBm large power, can go through the barriers easier.
5.Easy to install .
6.Device,with antennas, full kit repeater
7.With LCD display
8. 1 Year Guarantee
Feature:
1.High linear design,low interference to BTS.
2.Compact size,low consumption,easy to install,great cover.
3.Expand signal coverage where signal is weak,suitable for home use.
4.Improve your mobile signal ,no more bad reception,no more dropping calls .
5.With LCD display function.
packing included
1pcs 900/1800/2100mhz repeater
1PCS EU adapter and manual
1pcs 10dbi LDP outdoor antenna
1pcs ceiling antenna with 3 meter cable
15m 50ohm cable with connector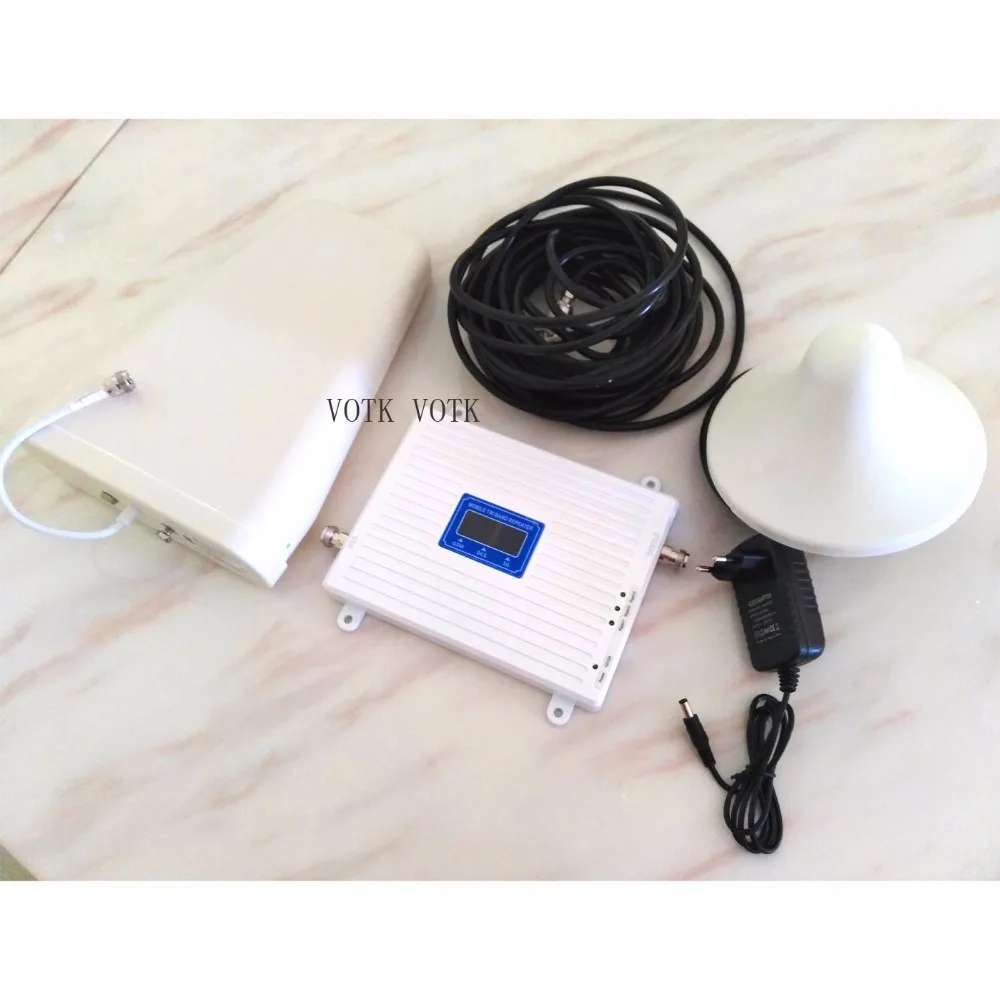 Remind :
Please check your outdoor signal condition before placing the order
if sometimes the signal is full,sometimes no signal again in your mobile, or you couldn't call out when the signal is full, it couldn't be used any booster in your environment.
it need 4-5 bar stable signal which can talk by mobile phone near outdoor antenna and 1-2 bar signal in mobile phone in ROOM. if there are 0-3 bar for outdoor signal and there are no signal in room, the signal is too bad and you had better stop to buy booster from us. THANKS FOR YOUR SUPPORT IN ADVANCE!
The booster will not work good if your outdoor signal is bad and there are no signal in room at all.
We will not bear any responsibility of your outdoor signal and there are no signal in room problem.
because some place couldn't get signal even the booster work well now.
If your room is empty and no obstacle , no walls, max. it can enlarge to use for 100 square meters max. . but normal recommend for 10-50 square meters normally in open space . If you need cover more area, pls add high outdoor antenna and more indoor antenna again.
Display device (for reference)
The external power supply detecting normal display ----OK.
Internal power supply detecting normal display ----OK.
MMIC circuit detects normal display ----OK.
-50dbm signal input and detection to achieve full displayed.
Features:
High gain ,easy installation and operation.
Full-duplex,singal-port design,build-in power supply.
adjust extent automatically.
LED light working &signal condition indicators.
Big linear power,control intermodulation & scatteration stably.
Dependability stand by GB6993-86 standard.
Compatibility of electromagnetism according with ETS300 609-4.
Technique Specifications:
Item
Specification
Up Link
Donw Link
Frequency Range
890MHz ~ 915MHz

1710MHz ~ 1785MHz

1920-1980MHZ

935MHz ~ 960MHz

1805MHz ~ 1880MHz

2110-2170MHZ

Power
-70 ~ -40dBm/FA (1.23MHz)
Gain
60±2 Db
65±2 Db
Max Output Power
+25dBm / ±2dBmTotal Power
+25dBm / ±2dBmTotal Power
Impedance
50Ω
Power Supply
AC 110/220V (used AC/DC Adapter 12V /2Adc)
Seclusion
>70dB
Compact Design
Indoor Use
Item Diemension
240 x 180 x 20mm
Connect Mode
N connector
Ambient temperature
-10°C~60°C
LCD display function

can display signal strongness which it receives from outdoor antenna ,
the signal bar will be full black if the signal is received very good.

Signal coverage area :

1.Support Maximum coverage area is 1500 square meters.( Depend on the area condition)
2.One indoor antenna only use for about 100 square meters. (in open space).
If want to make all use of 1500 square meters which the host supports,
need to add more indoor antennas (about 20) and power divider / splitter.
How Booster/Repeater Works?
Repeaters are designed to fulfill the idea of one and main principle: to fill the areas with
the weak or bad signal and to amplify these low signals in order to provide you with the
communication suitable for you.
Steps that describe the work of Repeater.
1) The outside antenna receives the signal from the nearest mobile base station.
2) The outside antenna sends the received signal through the coax cable to
the installed Repeater.
3) The Repeater accepts the low signal and improves it.
4) The improved signal goes to the inside antenna through the connection coax cable.
5) The inside antenna send the improved good signal to your mobile phone
Technique Supporting
If still no signal receipt after activated repeater, please check if outdoor antenna point to signal tower or elsewhere have strong signal and check if strength achieve -50DBM.
If can not call out, please adjust the direction of outdoor antenna.
3.If the strength is not steady, please check if outdoor and indoor antenna are too close, pls ensure the outdoor antenna have distance of 10 meters at least, with a between and not in a same horizontal line.
4.keep antenna and booster far from windows.
5.pls put indoor antenna in place which is above 2 meter high and far from wall to installation.
6.Packed the connector by waterproof glue, otherwise wet reduce the signal cover area.
package picture